Details

Written by

Leo Paik
User Menu
In this section, you can:
* send messages to other registered users
* edit your profile (e.g. change your password)
* go to the backend (if you have privileges)
* find your draft articles (if you save articles and used the default setting)
* access archived articles
* find out information about the Presidential Volunteer Service Award
Details

Written by

Leo Paik
The Standley Lake Athletic Booster organization is now a certifying organization to track and award students, teachers and parents with the President's Volunteer Service Award. You all have organizations, clubs and events with which you spend time as a volunteer. Now you can track those volunteer hours and earn this prestigious award. Not only does this award provide you with a letter from the President, a personalized award certificate, and a volunteer service lapel pin, but the achievement looks great on college applications, scholarship forms and job resumes. You can learn more about the award at http://www.presidentialserviceawards.gov/. You are always welcome to email us at slhs.boosters@gmail.com for additional information. Make sure when you register to track your hours, you enter the SLAB certifying organization code of BPD-56282 in the profile tab of your settings so we can validate your hours.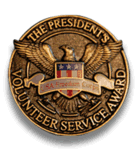 Subcategories
This is a place to keep older articles.
This is a section for the Combined Athletic & Academic Awards ceremony information.

The combined effort started in 2014.
Previously, these were separate ceremonies.